The Sixth British Screenwriters' Awards 2021 Dates TBC
THE AWARDS HAVE BEEN BROKEN OUT OF THE LONDON SCREENWRITERS FESTIVAL AND WILL TAKE PLACE LATER IN THE YEAR.
It's about time someone put the originators and architects of great storytelling front and centre.
And the London Screenwriters' Festival rose to that challenge, launching the annual British Screenwriters' Awards in 2013.
Now in its sixth year, the awards continue to celebrate the very best in screenwriting in UK TV and film, as well as platforming new talent and honouring extraordinary people and contributions to our craft.
Are You Writing For Sophisticated Audiences?

While the nineties and noughties were dominated by three act script gurus, NOW, broadcasters, production companies, agents and most importantly, audiences, are consistently demanding more elegant and sophisticated stories (and therefore screenplays).
Linda Aronson's 2 Day masterclass on advanced theories and techniques for creating original story design explodes conventional screenwriting theory for both feature film and TV. Recent shows using the techniques that Linda identifies, unpacks and reveals include 'Killing Eve' , 'The Bodyguard', 'Big Little Lies', 'After Life', 'The Night Manager', 'Happy Valley', 'Collateral' and 'The Handmaids Tale'.
'If you manage to get a job in telly, Linda's techniques will help you keep it. This is not just more theory. She really goes into the nitty gritty - how to write and develop a multi strand story, how to write a zinger of a scene by scene, how to write to production constraints - and how to get it all done in double quick time. It's genuinely invaluable.'
Rachel Paterson, 'Casualty')
Feedback from the 21st Century Screenwriter Course...
✔️ Delegates gave us an overall rating of 4.8 out of 5
✔️ 99% agreed that the course was value for money
✔️ 99% would recommend to a friend
Feedback for Linda from our courses...

'A good kick in the conventions…!'
Pete Dodd, Director ⭐⭐⭐⭐⭐
'It was one of those light bulb moments when suddenly everything made sense'
Deanna Dewry, Writer turned director ⭐⭐⭐⭐⭐
www.GullFilms.com
'I was open mouthed at so many fantastic ideas!'
Debbie Manship, Writer ⭐⭐⭐⭐⭐
ltiple Protaganists, Double Journeys, Consecutive Stories and Fractured Tandem (used in films like Pulp Fiction, Inception, Atonement and 21 Grams)... She has created robust and powerful frameworks from which you can build those stories you want to tell, stories that feel limited or underdeveloped in a linear three act structure. For writers who want to work in longform TV, this masterclass will reveal the deep DNA of su
Hollywood legend Joel Schumacher presents Philomena Lee with the best feature screenplay award for 'Philomena' in 2014.
Comedienne, actress and writer Rhona Cameron presented the awards in 2014, 2015 and 2016.
Outstanding Newcomer for British Feature Film Writing
Loving Vincent by Dorota Kobiela / Hugh Welchman / Jacek Dehnel

Beast by Michael Pearce

The Ritual by Joe Barton (Based on the novel by Adam Nevill)
Dark River by Clio Barnard (Based in part on the novel by Rose Tremain)


God's Own Country by Francis Lee
Simon Fitzmaurice collects his award at the 2016 British Screenwriters' Awards.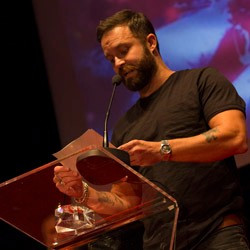 Best British Feature Film Writing
Darkest Hour by Anthony McCarten

The Death of Stalin by The Writing Team

Lady Macbeth by Alice Birch (Based on Lady Macbeth of Mtsensk by Nikolai Leskov)

Three Billboards Outside Ebbing, Missouri by Martin McDonagh

I Am Not A Witch by Rungano Nyoni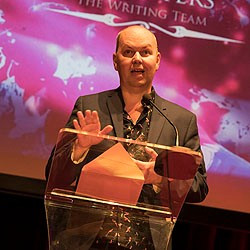 Best British Children's Television
Creeped Out by Bede Blake / Robert Butler / Denis McGrath

So Awkward by The Writing Team

Like Me by Adam Tyler / Bob Ayres / Toby Lloyd

Class Dismissed by The Writing Team

Go Jetters by The Writing Team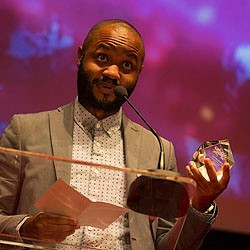 Outstanding Newcomer for British Television Writing
The End of The Fucking World by Charlie Covell (Based on the Comic book by Charles S. Forsman)

Murdered for Being Different by Nick Leather

Save Me by Daniel Fajemisin-Duncan / Marlon Smith / Lennie James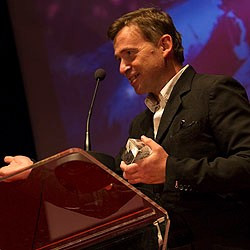 Best British TV Drama Writing
Liar by Harry Williams / Jack Williams

Our Girl by Tony Grounds / Loren Mclaughlan / Amy Roberts

The State by Peter Kosminsky

Broken by Jimmy McGovern / Shaun Duggan / Colette Kane / Nick Leather

Patrick Melrose by Edward St. Aubyn / David Nicholls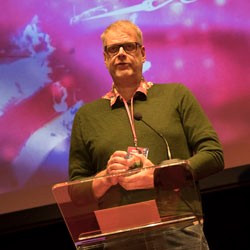 Best Crime Writing on Television
Marcella by Hans Rosenfeldt

McMafia by The Writing Team

Kiri by Jack Thorne / Rachel De-Lahay

Top of the Lake by Jane Campion / Gerard Lee

Collateral by David Hare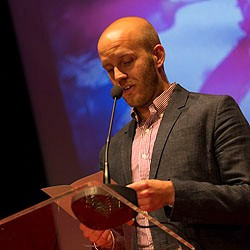 Best Crime Writing on Television
Famalam by Tom Marshall / Akemnji Ndifornyen

Timewasters by Daniel Lawrence Taylor / Barunka O'Shaughnessy

Derry Girls by Lisa McGee

Sick Note by Nat Saunders / James Serafinowicz

Motherland by The Writing Team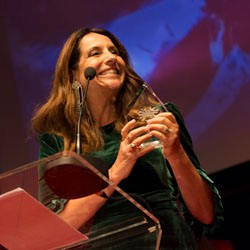 The Fucking Awesome Fitzmaurice Award
Justine Heart and Charlotte Macleod accepted the award for

Lucy Scher



More about the Fitzmaurice Award HERE.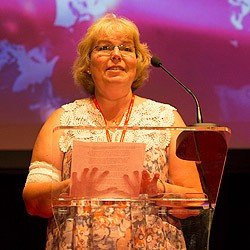 Impact50 Best Film Awards
'Equal', written by Ben Lacey, produced by Isos

'Leargaidh', written by Matt George Lovett, produced by Meshes Films LLP

'White Liar', written by Ben Mole, Produced by Core Films

'In Vino Veritas', written by Kim Wheeler, Produced by Flickering Wick

'Music to Die For', written by Dee Chilton, produced by Natasha Marburger Productions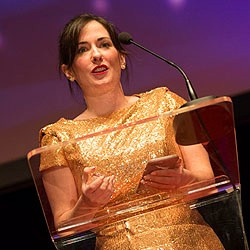 Maximum Impact50 Best Film Awards
'Francis of Fell End Farm', written by Milethia Thomas, produced by LTBL Productions

'T-Minus' written by Carolyn Goodyear, produced by Adrian G. De la Pena

'The Travelers' written by Matt Giannini, produced by Silverbird Productions Ltd
Providing film & media insurance for over 20 years! Get your production insurance here.
Note: Please fill out the fields marked with an asterisk.
Get your photos taken on the red carpet.